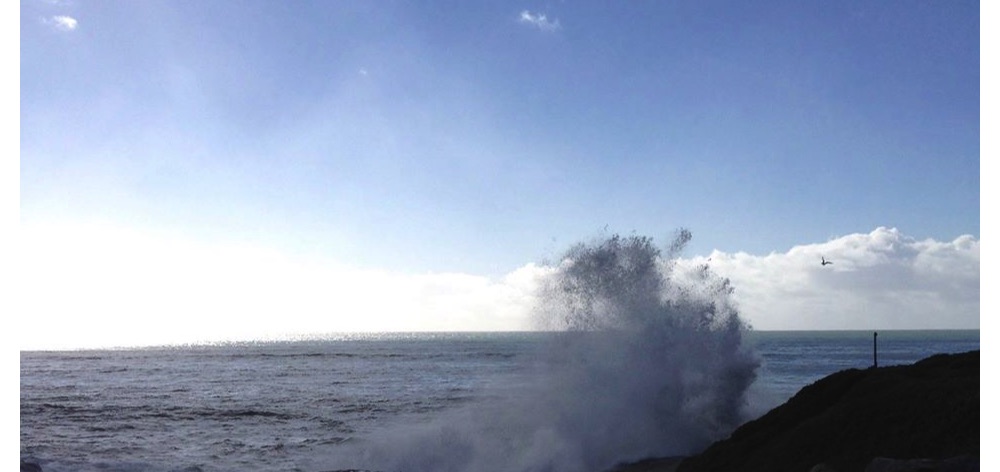 Quarterly Digital Magazine for the phone or tablet:
Magnificent Metamorphosis Magazine
Inspiration for Positive Change
is now available on the App Store,Google Play, and MagsFast!
Magnificent Metamorphosis Magazine is for the reader who is seeking uplifting, educational, entertaining, and inspiring articles that promote positive change and personal insight.
Each quarterly issue includes impactful information in featured sections, that include articles from experts on Mindfulness, People for Positive Change, Arts and Music, Healthy Living, and Passion Business Ideas. Each issue of Magnificent Metamorphosis Magazine is designed to promote reflection, introspection, and transformation, arising from the well of undiscovered wisdom within. If you are looking for inspiration to make positive changes in your life, look no further.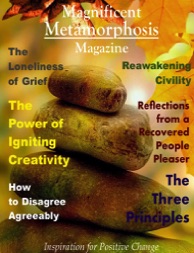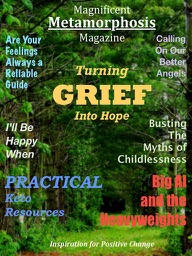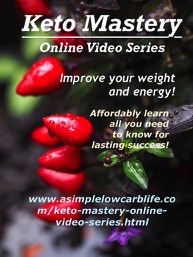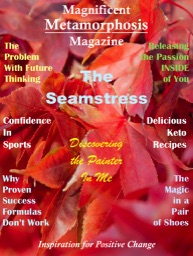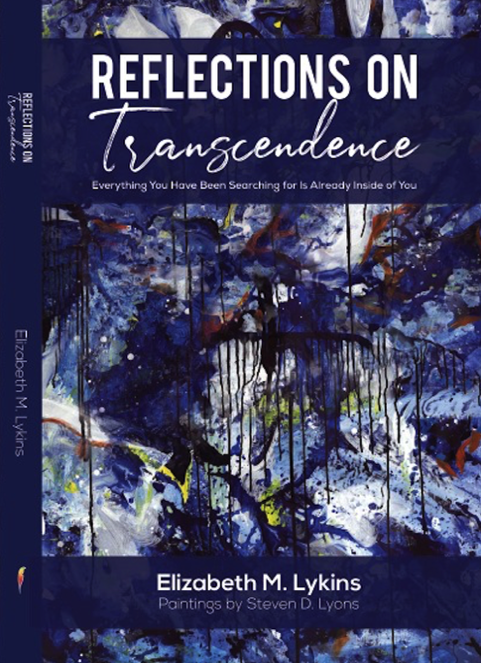 Most of us spend our entire life, searching for happiness and inner peace.
Transformational coach Elizabeth M. Lykins and world-renowned expressionist artist Steven D. Lyons, have partnered to create a welcoming space that promotes introspection and reflection.
Open the book to any random page to find inspiration and moving imagery to direct you inward. Within is where the Universe is waiting to gently guide you toward the happiness you have been seeking.
Reflections on Transcendence is a great resource for schools, clinics, mental health centers, and correctional facilities, to assist the reader to get out of their head and into a reflective space, where real change can occur.
Find out about volume discounts, by contacting the publisher.
What People Are Saying
"Although the words and the art within this book are beautiful and are certainly soul-stirring, the true magnificence of Elizabeth and Steven's work and the source of innate resilience and well-being is not found there between the pages…This book sets the reader off on an exploration of epic proportions, within and without. I, wholeheartedly, recommend this book to be read; but not cover to cover. Dip in and then take some time and space to reflect… It is in these reflective moments and in the spaces between the chapters, between the words and the stunning art,
that the power of this book lies…Read a bit and then sit in silence and let it soak in!"
~ Robin Lockhart
Therapeutic Coaching, Recipient of the 2016
Global Youth Worker of the Year award, by The Commonwealth
☯
"The book is a beautiful compilation of ancient, timeless wisdom from many sources. I really enjoyed the concept and format of this book. The range of wisdom shared was truly impressive! I always enjoy reading how each of us uniquely presents with words what we see of the Three Principles."
~ Linda Sandel Pettit
Ed D, Counseling Psychologist
☯
"Do yourself a big favor and get your hands on the remarkable new book by Elizabeth M. Lykins, Reflections on Transcendence. The vital message of the book, which Lykins explores from a number of different angles, is that life is best understood and lived from an inside-out perspective; that external circumstances are not the source of our experience; good, bad, or indifferent, and that we cannot expect to find what we seek (wellbeing, happiness, the meaning of life, or solutions to our 'problems') anywhere other than within ourselves. Expressed another way, it is the inside-out perspective that offers the best chance of living to the fullest, in the full understanding that it is our thoughts, not the past or future or the seduction of what's 'out there', which are the agents responsible for our experience and those thoughts only acquire whatever significance and relevance to our lives that we elect to assign to them, because the truth of who we are, our essence, is never to be found in the random thoughts that occur to us and frequently sabotage our ability to live in the moment and respond spontaneously to what's available in the here and now. Dramatically illustrated by Steven D. Lyons, this important new book has the potential to transform your understanding of the human experience and offers a roadmap to a more peaceful and effortless life."
~ Dr. John Countryman
Retired Theatre professor, Berry College. Recipient of two Kennedy Center,
American College Theatre Festival Awards for Directing
☯
"We all go through life with our thoughts swimming around in our minds and they define our lived experience. The bad ones pull us down and have undesirable ripple effects. Elizabeth, in Reflections on Transcendence helps us navigate those troubling thoughts or state of mind. It is divided into short chapters, comprising of common thoughts and emotions, which prevail in our minds from time to time, accompanied by art work relating to those. Whenever you want to feel differently, pause whatever you are doing. Shut your eyes, take three deep breaths, and open the book at the relevant theme chapter. Just read what's in there and ask yourself, "What's the message here? What do I know differently now?" And let your mind answer in its own time. Take the book with you in your smartphone, tablet, or laptop. You never know when you may need it."
~ Aamer Iqbal, MD
Asthma Specialist, and Certified Wellness Coach
☯
"I think it is outstanding;
The best 3P based access to wellbeing
I have read."
~ Bill Cumming
Director, The Boothby Institute and The Pause Place
☯
"As I read through the pages, I was filled with so many thoughts and emotions of the years of my life. Funny how you can read quotes or words of wisdom and be taken back to a specific moment in life. Instantly, you are back at a precise moment, where you had an experience. Reading through 'Reflections of Transcendence' was similar to taking a trip through my life's emotions log book. There were flashbacks to moments, places, people, experiences, that I had neatly, or not so neatly, tucked away, never to access again. or so I thought. I would liken the words of this book to having a personal guidance counselor; one who allows the freedom to walk through the days of life in privacy and attempt to unlock one's personal journey. This book took me on a journey through my personal suitcase."
~ Celia McBride, RN
Emergency Medicine Nurse
☯
"Reflections on Transcendence is pointing in one direction, where the
human experience is really coming from. It's like going on a journey, its beautiful artwork helps engage the creative mind, whilst the words gently guide you to your own insights and realizations. Be prepared to get comfortable, open your mind, and be open and curious about what you are hearing from inside. Enjoy the journey."
~ Clésia Mendes
Speaker and Mindset Head Coach
☯
"Like everything Elizabeth Lykins does, this is a book written with passion and intelligence. It is a wonderful guide into understanding concepts of mindfulness and a beacon of light for those searching for answers."
~ Meredith Broderick, MD
Sleep Medicine Specialist/Neurologist.
☯